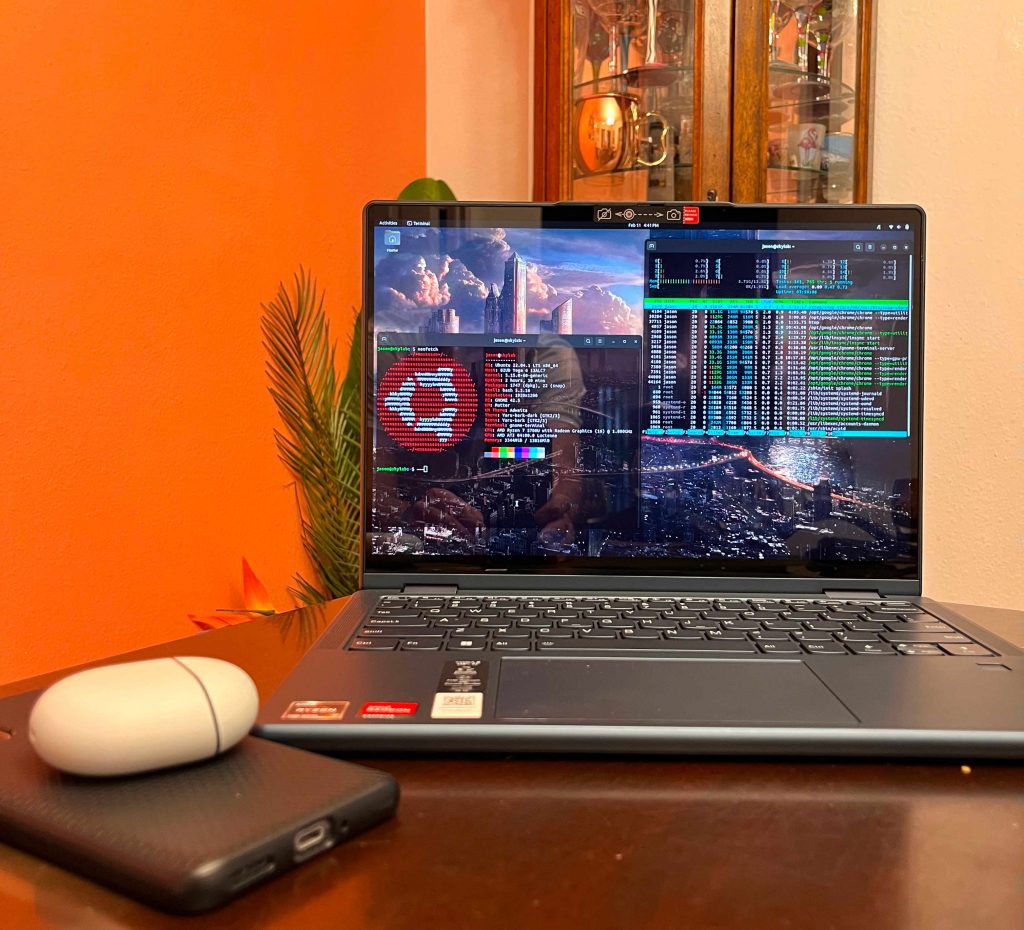 I recently decided that it was time to have something a bit more robust than my Lenovo Duet 5 Chromebook for working on the go. Don't get me wrong, I like the Duet, but it is limited in what it can do. For example, I would like to be able to write documents using LibreOffice more effectively, edit large images with The Gimp, or run a hypervisor or container engine. The Chromebook just was not built with a power user in mind. Sure, it is great for reading, watching movies, writing articles on the go and general content consumption, but its not the work horse that I need for more complex and involved tasks.
For my requirements, I wanted something light but powerful in a 2-in-1 form-factor that would not break the bank. After a lot of research and a budget of under $1000.00 I settled on the Lenovo Yoga 6. This is the latest model, which came packing an AMD Ryzen 5700U, 16GB of RAM and a 512GB M.2 NVMe SSD. I was able to pick up this device at my local BestBuy for $875.00 the same day that I had finalized my decision on the purchase (it was the last model in stock).
Here are my thoughts on this device so far after only a few days of use.
Appearance and build quality
I am not much for laptops in any other color than black, but the finish on this device is not that bad. It is listed as 'Dark Teal', which is actually very nice. I am not sure that I would call the color 'Teal' though. It is more a midnight blue if you ask me. Either way, the color is very dark, which I like. The cover has the typical silver Leno plates that come on some devices, which is nice.
A lot of the models that I researched had an almost denim looking cloth finish on the lid, which I was not fond of, but had resigned myself to accepting if I had to. Luckily, the model that I picked up came with an aluminum lid. I was very pleased to see this over the cloth material, as I am certain I would have stained or otherwise marred the cloth over time.
The body of the unit appears to be made of plastic, but it seems to be very sturdy and feels good to the touch. There is a little bit of flex in the body, but with plastic and a budget friendly laptop, that is to be expected. Overall, the build quality is great for the price and I am very happy with it so far. I guess time will tell as I put the device through my daily grind.
Keyboard, track-pad and touch screen
Lenovo is know for their legendary keyboard and track-pad setups. This model, however, does not have the quality of the more expensive ThinkPad line of laptops. That is not to say that this device does not have a good quality keyboard and track-pad – it is just not up to the same standard as what you will find on a ThinkPad. The keys and size of the keyboard is very comfortable. The keys are very 'clicky' with a sort of mechanical feel to them, but the travel is pretty short. All said, as a pretty proficient typist and someone that uses the terminal extensively, it is an easy device to type out this article on and I have had very few issues with 'fat fingering' keys. The keyboard is backlit and bright, with good contrast to the keys making it easy for typing in dark environments.
The track-pad is also pretty nice for a budget device. It does feel a bit cheap but it is not as bad as some of the track-pads I have used in the past. My finger slides easily across it and it has a very even click across the entire pad with the exception of right in the corners. Running Ubuntu, I have noticed that the 2-finder right-click feature is not working unless you tap (rather than click). That could be something with my configuration but it is not a deal breaker for me. All of the common gestures you would find on other modern laptops are present, such as three-finger swping.
Performance
I am not one to perform heavy load testing/benchmarking on a machine or test resource-intensive games (I am not much of a gamer) but as a power user, this little device is easily handling everything that I have thrown at it. It barely breaks a sweat with 10 LXD containers running at the same time. Starting/stopping and restarting them simultaneously also does not have a huge impact on performance. In addition to 10 containers running, I also built two VirtualBox VM's running full-blown copies of Ubuntu and the machine barely noticed. All of this was done while chrome was open with 10-12 tabs, along with LibreOffice writer and the Ubuntu Software Center. This replicates the sort of load I put on machines regularly and I was very pleased to see this device able to keep up without issue. The fan is a bit loud and did rev up the RPM's under heavy load, but that is to be expected with a form-factor as compact as this one.
To the gamers out there, this laptop does not come with a discrete GPU so I would imagine gaming on it would not be a great experience. I have read some other opinions on the matter and and it seems as though online gaming works well, along with less resource intensive Steam games. I might test some gaming on it down the road, but as I mentioned, I am not much of a gamer.
Ports and Expandability
The Yoga is not loaded with ports, but it has a decent number of them for its size. With 2 USB C ports, that will both accept charge as well as provide video output along with a full-size HDMI port and a headphone jack on the left. On the right, there are 2 USB-A Gen2 ports and a micro-sd card reader along with the power button. For my needs, there is plenty of ports for expandability and peripheral use.
The Display
This unit is equipped with a 13.3″ WUXGA (1920 x 1200) touch panel @60Hz that supports 100% RGB at 300 Nits max brightness. It is not the brightest display on the market and may make using it in the sun or very brightly lit spaces a bit of a challenge for some. I did not have much difficulty with seeing the panel in bright sunlight with it turned to max brightness. The one thing that is a bit troublesome is the glare. It is not a matte finish, so it does produce quite a bit of reflection. This not such a big deal for me as I 'look through' the glare, but it does catch my eye from time to time.
At the top of the display, there is a 1080p webcam that supports Windows Hello. It produces 'decent' image quality and will work very well for video conferencing and logging in with facial recognition, but not much else. One feature here that I really like is a physical shutter that blocks the camera lens for privacy. This is a nice touch for this device and something I will likely leave engaged for the lifetime of the laptop.
The touch panel is very responsive and accurate. I have no issues with the device in 'tablet mode' and am able to navigate the operating system without issue. The keyboard also becomes completely inactive when it is folded behind the display to prevent accidental key-press, which is nice and worked very well in my testing.
Audio quality
This is a small device, and as such is equipped with small speakers. With that said, it has decent volume for its size, but not much range. Bass is non-existent and the sound is slightly 'tinny'. For what I am using the device for, I do not take issue with this and mainly use my Pixel Buds Pro for audio. On occasion, I can see myself playing a Netflix movie for the family on a camping trip, but if the sound is not robust enough to enjoy the movie, I will pump the sound out of a Bluetooth speaker. The Mic works well, and picks up my voice clearly from a few feet away, so for conferencing and calls, this will work well.
Linux Support
When researching new devices, I always try to find out if the hardware is compatible with Linux since I plan to install it on first boot. This time was no different, though during my research, I found that the wireless card would not work for many people natively. Sine I am an adventurous person and like a good challenge, I decided I would give it a go anyway. I had no issues at all installing Ubuntu 22.04 on this device and, everything worked as expected – with the exception of Wireless and Bluetooth.
After some additional research into the chip set, I found that it was a RealTek 8111E. There were a number of resources online that helped me with the solution to my wireless woes, which I consolidated into an article here. Once I had this solution in place, the wireless and Bluetooth have been working flawlessly.
Conclusion
I am very satisfied with this device so far (I have 14 days to return it if that changes). It runs Ubuntu very well, offers great performance for the price and tics all of the boxes that I had set out to tic when looking for a budget laptop. I would not recommend this device to heavy gamers or those that need something to perform advanced graphics or audio editing. For the casual user looking for something sleek and powerful to carry with you daily – this is your machine. The price is right, the specs are good and the quality is above expectations for a laptop in this category.