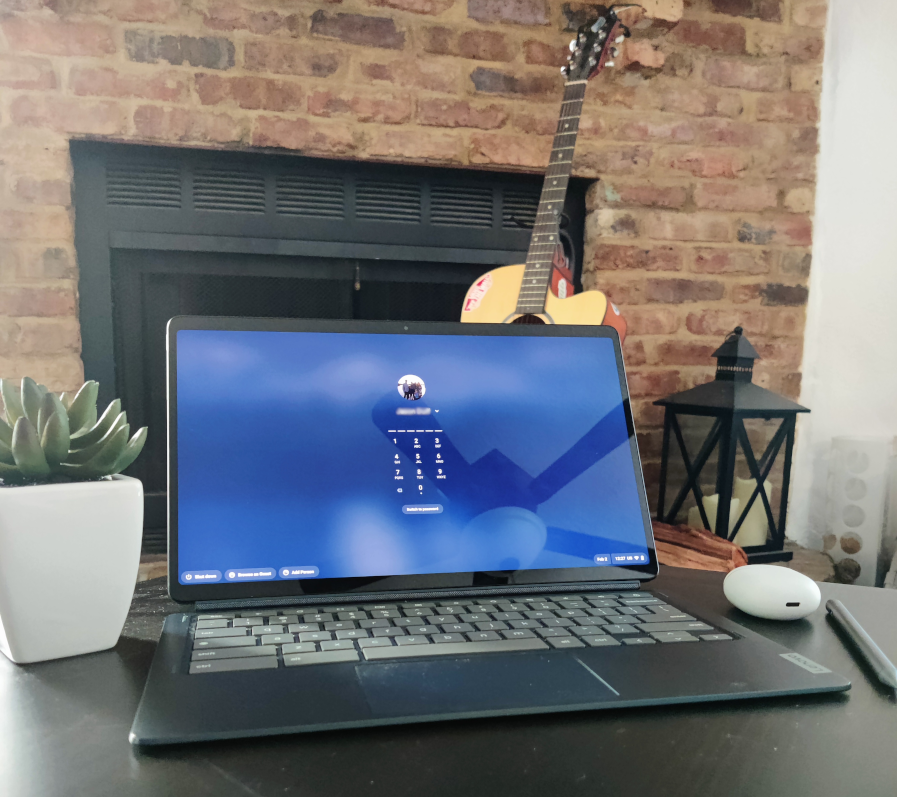 I am typically not a fan of devices that do not provide a full-blown operating system with all of the bells and whistles that I am used to with my daily driver Linux OS (Currently Pop_OS). Nor am I fan of vendor lock-in on a device like a Chromebook and prefer Open Source for everything. As a power user and someone that generally likes to 'tinker' with technology, I was skeptical of Chromebooks due to the limitations imposed by ChromeOS – BUT – I really needed a companion device that was light, had great battery life and would allow me to perform basic functions on the go. With that said, I started investigating Chromebooks and what they had to offer. I have to tell you, I found an awesome option when picking up this device.
Initial Thoughts
After a lot of research and a bit of hands-on time with ChromeOS and more generally Chromebooks thanks to my local Best Buy, I settled on the Lenovo Chromebook Duet 5. This little device is a 2-in-1 with a detachable keyboard and a 13.3 inch screen (Specs Below).
Looking at the specs, I knew this device was not a power house and likely would not allow me to do a whole lot in the realm of gaming, image manipulation or any other 'heavy lifting'. I did find that it does offer a really good platform for day-to-day things, like browsing the web, working with email, managing google photos and working in google docs. The screen size is not ideal while being used as a tablet, but it is manageable and works great for consuming content. As a 'laptop' the device feels like the perfect size for getting work done on the go, but not as a full time workstation.
Extending Functionality
One thing that I found particularly interesting is the ability to install Linux on the device, which conveniently comes in the form of Debian 11 (at the time of this writing). This then allowed me to install some of my favorite Linux apps. I was able to get flatpak installed, which allowed me to install the latest version of LibreOffice, The Gimp and InkScapes. To my surprise, they worked pretty well. The installed Linux apps even show up in the app drawer under 'Linux Apps' and appear in searches. I was also able to get Metasploit, NMAP, NCRACK and a few other pen-testing utilities installed and working with ease. More to come on the success (or failure) of this feature as I have more time to play with it.
Another item that I found interesting is that the device is able to run Android apps. This was a bit of a let down once I started toying with installing them as they do not adapt to the larger screen well, and typically look and function better when used in a window that resembles the size of a smart phone screen. This is okay for some apps but for others, I have found this less than ideal. I have also experienced some bugs in apps installed in this way, like being unable to properly rotate the screen in some apps and having to sleep/wake the device to recover this functionality. All said, some apps perform as expected and others do not, so mileage may vary.
My Verdict
Overall, I really like this little device. I have been able to go 2 or 3 days with regular use without the need to plug it into a power source, which conveniently is USB-C. It is light and easy to carry. The detachable keyboard is solid and offers a good typing experience (writing this post on the device). The screen is super bright and has great image quality and resolution. The device is supported by a magnetically attached cover that also serves as a 'kickstand' that offers multiple angles and works really well. One thing that is missing from the device out of the box is a USI stylus, which I plan to also purchase and test in the coming weeks.
All in all, I really like this device! It serves exactly the purpose that I was looking for – and while it is definitely a deviation from my normal – it fits really well into my workflow and daily life. The price point on this device is $399.00 but due to my frugality, I opted for an open-box deal from Best Buy, which got the cost down to $322.00 – a steal as far as I am concerned after almost 2 weeks of consistent use with a positive experience.
Head over to BestBuy and check it out. I have seen this little device on sale a number of times since it was released and for the price even when not on sale – it is a solid buy if you are looking for a lightweight and capable companion device.